available in selected markets
In selected European markets FreshBed offers additional models: Divan, Adjustable and Stand Alone.
Does the appearance of a box spring appeal to you? Then from now on it can also be a FreshBed with the appearance of a box spring: a hybrid version. Due to the wide choice of colors and materials of the upholstery, a box spring combination is easy to adapt to the bedroom interior. Box spring combinations can be extended with head and foot ends and can be combined with various legs, making a cot unnecessary. Without a head and foot end, a box spring combination is compact: no larger than the mattress size.
Depending on the situation, a double bed can also be made divisible, creating two single beds. FreshBed is exclusively supplied as a sleep system with the accompanying specially developed mattresses and top mattresses.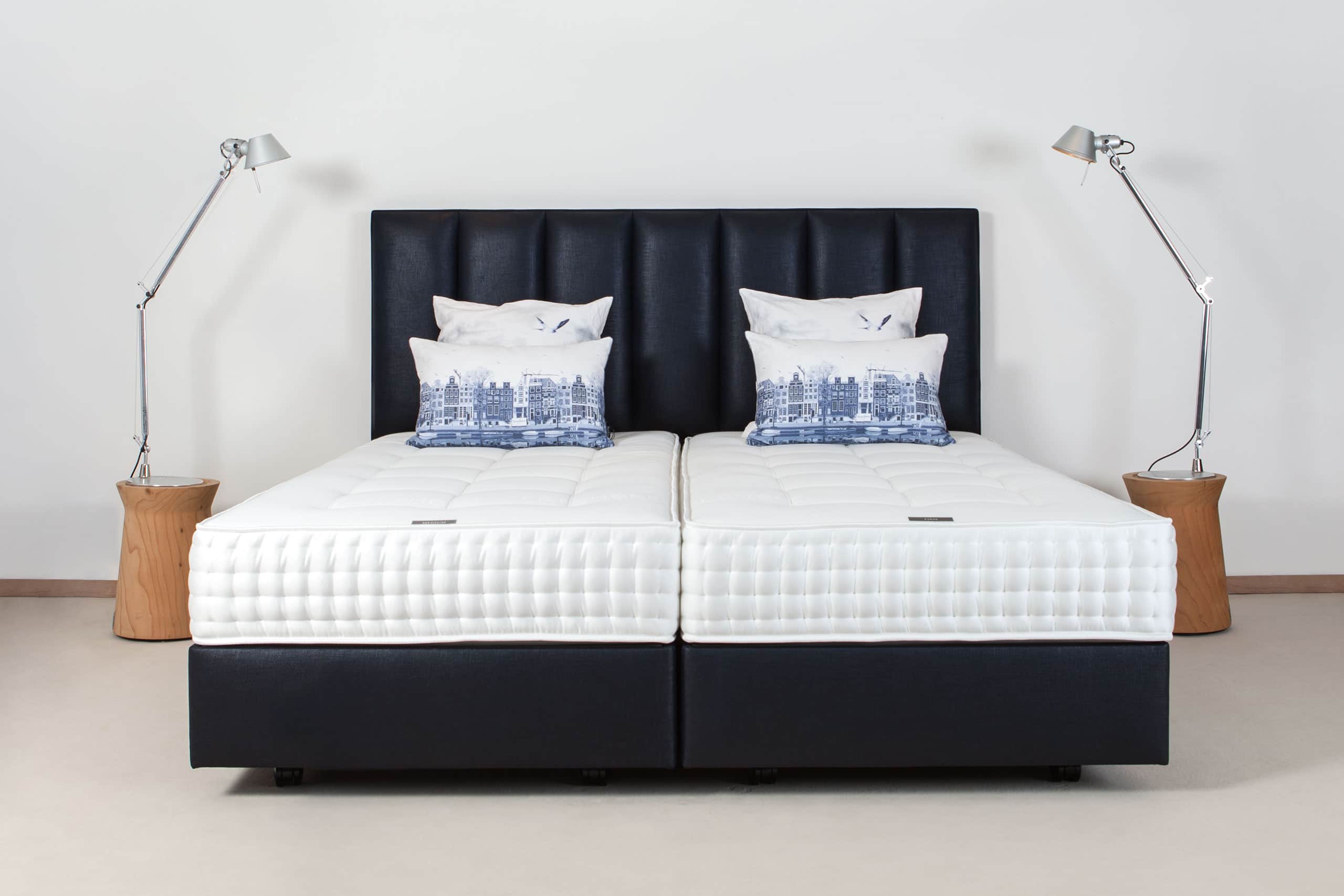 The FreshBed Divan is available in fabrics from Kvadrat, Sahco Hesslein, or, if desired, even in a furniture fabric that you supply yourself. When there is a house dust (mite) allergy, you can also choose a fabric in leather "look". Then the upholstery can be cleaned with a damp cloth and you can be sure that your entire FreshBed remains free of dust mites! The headboards are optional and make the FreshBed Divan extra stylish. If desired, the FreshBed Divan can also be combined with the headboard of the design bed IFO, with the characteristic rounded corners.
FreshBed adjustable, groundbreaking in technology and comfort, uniquely air-conditioned sleeping, and the possibility to read and watch TV. The FreshBed Adjustable is elegant and resembles a box spring when in a flat position. The head and foot of the bed are infinitely adjustable. Whether you are sitting or lying in this bed, you experience pure luxury, with the focus on your well-being and your body.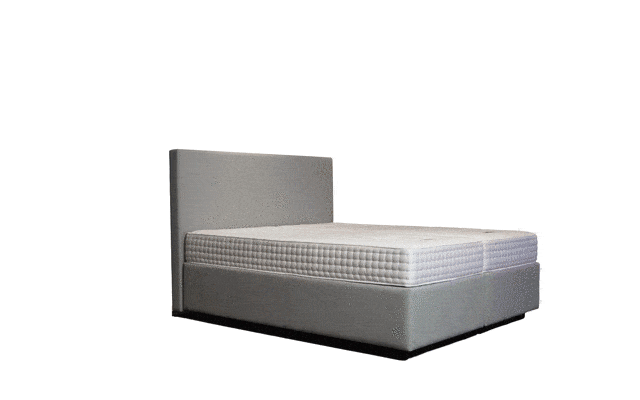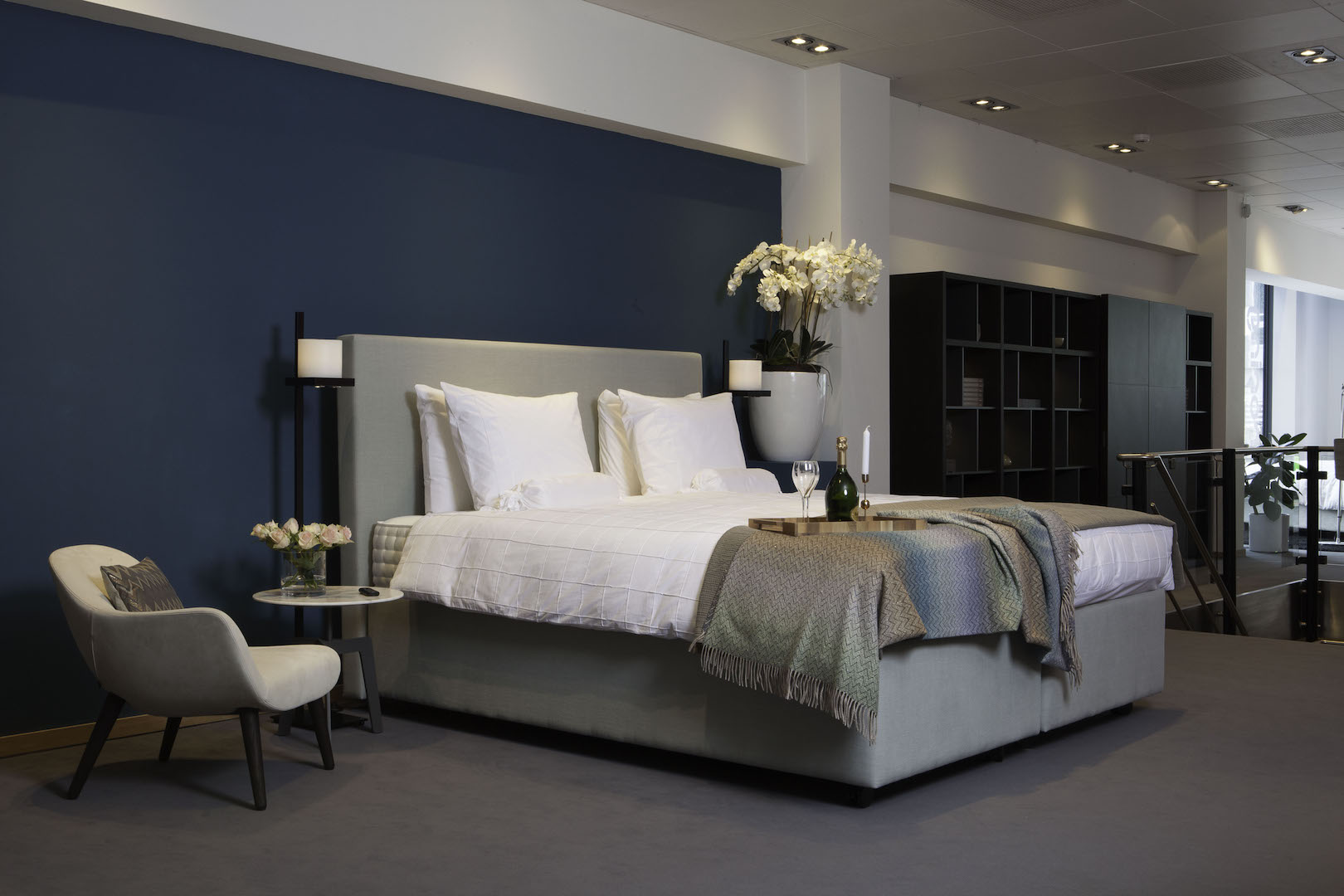 Head and foot ends of the bed are powered by two powerful, silent electric motors
Can be operated with your own wireless remote control or with Bluetooth via your smartphone
Mattress always stays firmly in place, even when adjusted, without using mattress brackets
Double (200x220cm)
Collection of beautiful fabrics. Can be personalized with your own fabric, to perfectly match your interior
Firmness tailored to mattress and mattress toppers
Simplicity and versatility
The FreshBed Stand Alone is the simplest version of FreshBed, but with all the advantages. This version is also suitable for placement in a bed frame, bed frame, or bed and that makes the Stand Alone the most versatile model in terms of design: the possibilities are endless! FreshBed is exclusively supplied as a sleep system with the accompanying specially developed mattresses and top mattresses.
Whether you already have or are going to buy a bedstead, the Stand Alone fits in it. If you want to place the Stand Alone freestanding, you can always purchase a random bed conversion at a later stage. In any case, you will immediately benefit from your investment and all the benefits of FreshBed! If desired, the height of the plinth (standard in black or white) can be adjusted, so that the Stand Alone matches the height of the bed frame in terms of height.