"I really want to help consumers sleep better, and raise awareness around a neglected starting point for an optimal night's sleep: the bedroom. For that, your bed and mattress are key. "
(Roy Raymann, Ph.D.)
Best known as the man behind the famous Bedtime Alarm & Night Shift features at Apple, Roy Raymann has been infamously titled "Apple's Sleep Czar". Throughout his journey, at Philips, Apple, and SleepScore Labs, Roy helped millions of people sleep better; and has encouraged companies to adopt best sleep practices, and stimulated manufacturers to implement sleep science in their products.
His ambition to help people sleep better, by teaming up with the right partner with an amplified reach, is the driving force to work with FreshBed. He wants to make an impact where it matters!
Roy's award-winning dissertation. "Mild skin warming, a non-pharmacological way to modulate sleep and vigilance" on the interaction between sleep, alertness, and thermoregulation, provided solid evidence that applying mild skin warmth during sleep can alter sleep pressure, sleep quality, and alertness. The proven link of this to the quality of one's sleep will be important to further the development of FreshBed's sleep system, for an intuitive, stress-free (and hassle-free) approach to improving sleep quality.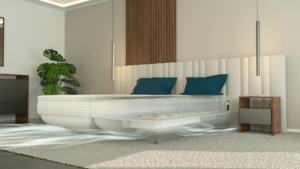 INNOVATION AT THE HEART OF FRESHBED!
This unique partnership will greatly boost the science-based technology that FreshBed already delivers, with the aim to further advance its patent technology and continuously achieve the perfect microclimate.
And in our continued efforts to maintain our leading position in the industry, we have launched several product enhancements this past year, such as its air generator units, remote control, HEPA filter, and enhancements to the mattress itself.
We strive to challenge ourselves and are taking the appropriate steps to provide a prestigious sleep system that is entirely science-based. We also hope to support our hotel partners in creating complete 360° Sleep & Wellness Programs.
Learn more about FreshBed and its advanced sleep system. Reach out to speak to one of our Sleep Specialists for a free consultation.